SCREENINGS
Kino
Arsenal, Atrium
Thurs. May 11
7:00 p.m.: Kino Arsenal 1
35mm films from the renowned experimental film archive of the Béla Balàzs Studio, Budapest
selected and presented by Sebestyén Kodolányi, director of the Béla Balàzs Studio
Aldrin László Vidovszki

1976

6´
Round Zoltán Jeney

1975

11´
Waiting / Várakozás Ágnes Háy

1973

6´
Self Fashion Show / Öndivatbemutató Tibor Hajas

1976

15´
Relative Swings / Relatív Lengések Dóra Maurer

1975

11´
Birds / Madarak Szirtes András

1980

8´
Four Bagatelles / Négy Bagatell Gábor Bódy

1975

21´
Inflagranti Ildikó Szabó

1982

20´
Selfportrait with Jane Morriss / Közös portré Jane Morrissal Baranyai András

1983

2´
Anatomy / Anatómia Kodolányi Sebestyén

1997

12´


total: 112´


The films will give an overview of the experimental film art of the Hungarian avant-garde of the 1970s and 1980s.

9:30 p.m.: Presentation in the atrium
16mm films from the renowned experimental film archive of the Béla Balàzs Studio, Budapest
selected and presented by Sebestyén Kodolányi, director of the Béla Balàzs Studio
Diary - Funeral of Mozart, Japanese Meniscus András Szirtes

1979-1983

34´
RAP LETTERS / RAP LEVELEK András Szirtes

1987

40´
DON GIOVANNI Péter Halász

1983

53´
AMBIGOUS WINDOW János Sugár

1990

18´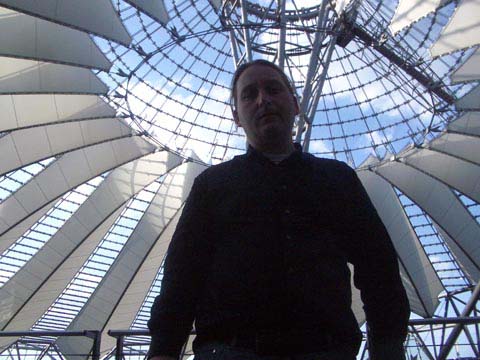 Self Fashion Show
2006


Sebestyén Kodolányi


Screening
Photo Gallery

Sebestyén Kodolányi

Selbst Modenschau
Adaptation of concept and text of
Tibor Hajas - Self Fashion Show, 1976
2006
Sebestyén Kodolányi's
work that he would exhibit in the foyer of the Arsenal Cinema presents an interesting mixture of two semi-independent artprojects.





The late Tibor Hajas is considered to be the most inportant Hungarian performance artist in the seventies. Hajas, as an artist that used to be interested in several genres, was deeply interested in experimental filmmaking, as well. His Self-Fashion Show, that's videoversion's projection is making the half of Kodolányi's installation is considered to be an extraordinary important example of conceptual filmmaking in the Hungarian avant-garde. Mr.Hajas shot his 35mm film on the busiest square of the Buda side of Budapest with occasinally selected passers-by around his crew.





Mr.Kodolányi is presenting, next to Haja's film, a conceptually shot remade version of the Self-Fashion Show, that he will shoot on the Potzdamer Platz in Berlin by using occasionally selected German or international passers-by but in the very same situations as Hajas used his models in the seventies. The shooting will happen just few days before the opening of the exhibition . The conceptual texts of the original version will be used in German translation during the exhibition. So, Kodolányi's conceptual experiment will make the second half of this moving-sound-picture installation. Visitors of the Poor Man's Expression exhibition will,of course, get the chance to see Haja's work in the original filmformat in the cinema,as well.

The filmprogram that visitors will see in the cinema and the projections in the foyer are selections of Hungarian conceptual films that were shot in the same time as Hajas made his own one or were made a little later. According to our desire, this program will give a complete overview and present new informations about Hungarian conceptual and experimental filmmaking in the seventies and eighties. The film, Anatomy, that represents a surviving and refreshing possibility of conceptual attitude in the nineties was directed and shot by the exhibiting filmmaker and artist, Sebestyén Kodolányi.
Sebestyén Kodolányi / SCREENINGS