SCREENINGS
Kino
Arsenal, Atrium
Sat. May 13
7:00 p.m.: Kino Arsenal 1
Riddles of the Sphinx
Laura Mulvey, Peter Wollen
GB 1976/7
An exceptional film by the filmmaker and theorist Laura Mulvey ("Visual Pleasure and Narrative Cinema") and Peter Wollen ("The 2 Avant-Gardes"), which mixes formal experimentation with political intention. The film is constructed in three sections and 13 chapters and juxtaposes Mulvey's own lectures in front of the camera about the myth of Oedipus's meeting with the Sphinx with a series of very slow 360 degree pans over various surroundings, from the private home to the workplace. Through the fragmentary use of images and dialogues in a strictly formal structure, the film breaks with conventional narrative structure and allows for a view of everyday political problems, feminism, factory work, etc.

9:30 p.m.: Presentation in the atrium
Sebastian Lütgert, Kirsten Pieroth – film presentation
The presentation will include works from the artists participating in Poor Man's Expression as well as experimental films from the archive of the Freunde der Deutschen Kinemathek: Films by Emile Cohl, a pioneer of the animation film, Thomas Alva Edison, and others.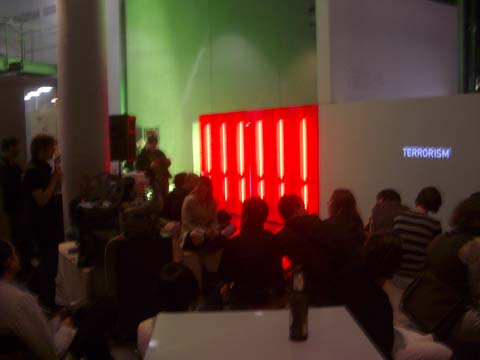 film presentation
2006


Sebastian Lütgert / Kirsten Pieroth


film presentation
Photo Gallery

Sebastian Lütgert / Kirsten Pieroth / SCREENINGS